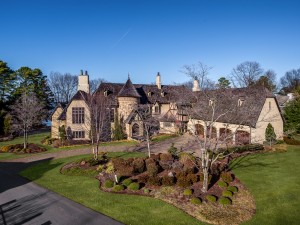 A landmark lakefront home on Jetton Road in Cornelius has sold for $3.6 million, putting it in the top three of all Mecklenburg County residential real estate transactions in 2014.
The county's highest residential transaction, at $3.97 million, was a lakefront home at 15521 Jetton. The second highest price transaction in Mecklenburg was $3.93 million, for a home on Colville Road in the Eastover section of Charlotte.
Cornelius has two out of the three largest Mecklenburg transactions. Rounding out the Top Five are a home in Pellyn Wood and a 1936 mansion in Myers Park.
The latest mega-sale, which closed late last month, was "Green Gardens," at 16505 Jetton Road. Anita Sabates and Dixie Dean of Allen Tate's Cornelius office, had the listing. Boston Reid, from Allen Tate's Concord office, brought the buyer. The property was listed at $3.995 million.
The high-end real estate markets in Lake Norman, Myers Park and Eastover are sizzling with an influx of buyers not just from out of state, but out of the country. Business and wealth have become internationalized, and real estate experts say money is practically no object when it comes to second and third homes, according to Allen Tate president Pat Riley.
He said during the past 12 months, 232 homes priced at more than $750,000 were sold in Lake Norman. During the preceding 12 months, there were only 196 such sales.
Then, too, millennials are suddenly a force in the high-end luxury market. More than 114,000 millennials received gifts of $1 million or more from parents in 2013, compared to 1,600 such gifts in 1997.
$3,969,000 – 15521 Jetton Road, Cornelius, NC – 10,321 sqft
$3,925,000 – 540 Colville Road, Charlotte, NC – 4,656 sqft
$3,600,000 – 16505 Jetton Rd, Cornelius, NC – 7,304 sqft
$3,335,000 – 1913 Bent Branch Rd, Charlotte, NC – 9,146 sqft
$3,150,000 – 1630 Brandon Rd, Charlotte, NC – 7,928 sqft