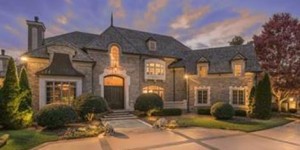 Dec. 17 Cornelius-based Ivester Jackson Christie's International will open an office later this month in one of the top office buildings in Southpark.
Ivester Jackson recruited Matthew Paul Brown from Sotheby's International as senior managing broker and broker in charge for Charlotte. Brown had been helping launch Sotheby's Lake Norman office in Cornelius.
"The key reason for the timing of this is that there is demand for our service and Christie's reach in Charlotte, but we also recognize how important it is to not disrupt our Lake Norman clients, thus finding an experienced respected leader to grow our Charlotte business who closely reflects the values of our company was really important," said Reed Jackson, managing partner of Ivester Jackson.
The company is already one of the largest high-end real estate brokerages in Mecklenburg County. "Since affiliating with Christie's last December, our ultra-luxury business has more than doubled," Jackson said.
Ivester Jackson has already listed a mansion at 4222 Fox Brook Lane in Morrocroft for $5.9 million.
The company has also named Alison Smith associate lead broker in the Cornelius office. Despite the rapid growth in the high end, Jackson said 50 percent of the company's transactions are in the  $500,000 and under price range.