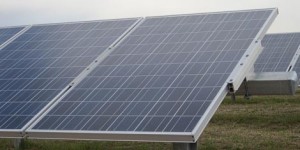 Nov. 25 Cornelius-based O2 Energies is building a 20 acre solar farm worth $10 million in Rowan County. The 4.25 megawatt solar farm is the first of its kind in the area and will generate enough clean electricity to offset the annual electricity usage of more than 500 homes.The farm will use an innovative inverter design.
The farm will use an innovative inverter design for the array with SMA Tripower string inverters. Instead of a few central inverters that convert DC electricity to AC electricity, the project will use more than a hundred smaller string inverters which are expected to boost energy production and reduce long term operations and maintenance costs.
O2 energies selected a new type of solar module from Hanwha Solar 1 which uses a thinner frame, lighter module and more efficient cell design to reduce the land needed to produce more that 6.4 million kilowatt hours every year.
Charlotte N.C. headquartered Duke Energy will purchase the energy, capacity, and renewable energy certificates under a fixed long term agreement.
National Renewable Energy Corporation (NARENCO), another Charlotte based company is constructing the solar farm for O2 energies. O2 energies has worked with NARENCO to maximize the local hires and local contractors working on the project.
To involve the local community in the construction of the project, local job fairs were held in Rowan County.  O2 energies set up a "Public Day" during construction of the solar farm that gave almost 200 Rowan County residents the opportunity to see a solar farm in construction including the jobs and future opportunities renewable energy may hold for the county.
Rowan Salisbury County Schools are eager to use the Rockwell Solar farm for field trips that will be integrated into the science, technology, engineering, arts and math curriculum. On the Public Day event, a class of 31 students from nearby Carson High School, a class of 21 students from nearby Erwin Middle School, and several science teachers from around the county had the chance to tour the solar farm while it is in construction.