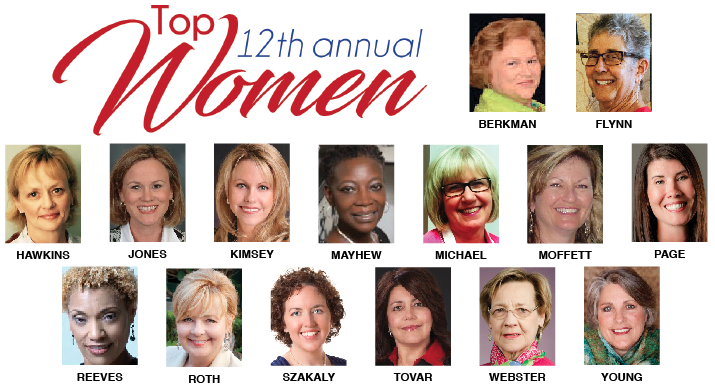 By Donald White. Fifteen successful women will be honored with the prestigious 2016 Top Women in Business Awards, one of the oldest and largest events honoring women in Lake Norman, Cabarrus County and University City.
This year presented a stellar crop of candidates — 23 in all — including a fitness instructor, the executive director of a battered women's program, and leaders of the Cabarrus Chamber of Commerce and Habitat for Humanity, among many deserving contenders.
This year's Top Women said they benefitted from strong women mentors in their own personal and professional lives, and they are paying that forward by helping guide younger women.
"It is especially important that young women see women in leadership because it changes the perception of what they perceive women leaders to be," said Top Women judge and past winner Karen Lawrence. "Women leaders lead from a position of strength and are quite capable of making complicated business decisions just like anyone else."
Mentoring was a major theme of the essays nominees sent to Top Women judges this year. Many said they owed their successful careers to accomplished women who had blazed a trail for them and set an example to follow.
"I've had amazing and influential mentors along the way," said 2016 Top Women nominee Velvet Nelson of ProctorFree.  "I believe the best advice that they've all given me is that confidence is key. In order to be successful in business, you have to believe you can be successful in business. It's stuck with me and I always keep that in mind when making business decisions, sales presentations, or anything else related to the company."
Nominees are often owners, founders or partners of small, medium and large companies or nonprofits. The judges' criteria included, in part, leadership skills, progress in achieving business or personal goals, charitable work, length of tenure with an organization, management of important projects or teams, involvement in major programs and events, and ability to juggle challenging workloads with the demands of family.
The members of the Top Women Class of 2016 have demonstrated remarkable resilience and perseverance, often overcoming setbacks to realize their goals. Lawrence said this is an admirable quality for women in leadership roles.
"Women leaders are not afraid to be knocked down a few times because they use these experiences to turn them into winning situations in their community or winning teams for their businesses all while keeping their femininity and in most cases raising children," she said. "Women leaders have to deal with a lot more than our counterparts to be seen as leaders and have their abilities appreciated."
Top Women nominees stand out for their determination not to let a setback stand in the way of their goals. Many of them said that challenging times in their lives made them all the more determined to forge ahead to realize their dreams—and taught them things they didn't know about themselves.
"I have learned from my mentors that failure is just as important as success when building and growing a business," said Top Women winner Jennifer Szakaly of Caregiving Corner. "Failure in business has taught me not only about things I should avoid, but also about strengths I have that I wasn't fully utilizing. I think that's a valuable thing to keep in mind with respect to personal things as well, and it is something I try to teach my daughters."
Business Today created the Top Women Awards 12 years ago to honor the Golden Crescent's most dynamic women in business, nonprofits, community service, education and politics.
All judges are former Top Women winners. This year's judges are Angela Swett, marketing director for Davidson-based McIntosh Law Firm; Cabarrus County Commissioner Diane Honeycutt, one of the top Allen Tate Realtors in North Carolina; Cornelius business attorney Catherine Bentz; former Lake Norman Chamber Chairwoman Wendy Moran; event planner Karen Lawrence; community leader Susan Tillis; Georgia Krueger, director of the Ada Jenkins Center in Davidson; and Tammy Whaley, senior manager of economic development for Duke Energy in North Carolina.
Prior Top Women winners include Cyndie Mynatt, owner of the Concord-based Ben Mynatt auto dealerships, Abigail Jennings, president of Lake Norman Realty, based in Cornelius; Kate Gaither, owner of Mooresville-based Newport Properties; Dianne Snyder, chancellor of Cabarrus College of Health Sciences; Robin Salzman, co-owner of Lake Norman Chrysler Dodge Jeep; and Phyllis Wingate, CEO of Carolinas Medical Center-Concord.
A Champagne Reception to honor this year's winners will be held from 6-9 p.m. Thursday Oct. 27 at the River Run Country Club in Davidson.
---
Arlene Berkman 
Executive director, Respect
Ability Foundation
"It is important to be comfortable in your own skin. Be of strong will and carry yourself accordingly. Have confidence in yourself and value your worth. If you do this, you will be in charge of your destiny."
Mary Margaret Flynn
Executive director, CVAN
"I am fortunate to have embarked on the work of chipping away at ending violence against women and children. While there are definitely days I would rather spend a lazy morning in bed with a cup of coffee and the newspaper, most days I don't think twice about heading out to work. Working with and for other women — what more could one want?"
Kelly Hawkins
President, Main Street
Management Group
"Growing up, I was always shy and wouldn't have imagined that I would ever own my own company.  As the mother of two daughters, I love that they CAN imagine it.  They are 8 and 12 and don't just say that women can do or be anything, they totally believe it and expect to the be boss!  That may be greater than anything I have accomplished as the president of Main Street Management Group."
Barbi Jones
Executive director, Cabarrus Regional Chamber
"I don't believe that anything that is accomplished is done so by one person. Everything is done with help, support and a team effort. It's important to mentor and help younger people, as so many have done for me. I really enjoy working in a team environment where the work is taken on collectively, plans made to tackle problems as a team and victories celebrated as such."
Lisa Mayhew
Co-chairman, Smithville
CommUNITY Coalition
"This is only the beginning. I found my purpose in life late in my life, and there is nothing else I would rather do than serve my community and give back what it has given me. I feel that SCC's motto speaks to my life: "A hand up and not a handout" is what we all need in life."
Cindy Michael
Vice president, Arrendale Associates
"Dealing with a husband's suicide could have broken the toughest of spirits, but Cindy would not allow the tragedy to define her. She enjoys traveling, exercising,  spending time with her rescue cat Minette and her  friends, and is enjoying life to the fullest.  And at the end of the day, with a smile and a laugh, she will tell you, 'I received a second chance at this stage of my life, and I'm so grateful!  I'm just getting started and the sky's the limit!'"
Donna Moffett
CEO, Donna Moffett Accountants
"It sounds rather simple, and even cheesy, but I try to follow the Golden Rule of "Do unto others as you would have them do unto you." I think through what is fair, equitable and morally right when in the decision-making process. The Rotary Four-Way Test is a philosophy worth living: Is it true? Is it fair to all concerned? Will it build goodwill and better friendships? Will it be beneficial to all concerned?"
Katie Page
Resource development director, Habitat for Humanity Cabarrus County
"A life lesson I have learned is best summed up by a quote by Thomas Edison, 'Our greatest weakness lies in giving up. The most certain way to succeed is always to try just one more time.' I know I am not alone when it comes to facing challenges and adversity in life. Whether in my personal or professional life, I recognize that challenges can be broken down into manageable pieces and each step is a step closer to success. The key to success is in how you recover, what you focus on, and how you treat yourself and others during the climb back up."
Nettie Reeves
Owner, N'shape With'N
"Each individual has a unique talent that only he has been given. God granted us talents not so we could be alone in our achievements, with a single goal benefiting a single person, but rather so that all could achieve by working collectively and cohesively. Together we can stand up and fight for what's right; together we can cure diseases; together we can all have clean drinking water and a roof over our heads; together we can accomplish the impossible. Together we can live in harmony."
Carol Roth
Director of development, National MS Society, Greater Carolinas chapter
"I was diagnosed with brain cancer in January 2016 and am fortunate that I am still able to work full time. I also am very fortunate that I have an outstanding employer that understands my needs and allows me time to work when and how I can. My "life lesson" would be to keep moving and do the best you can with what you have. I always focus on the positive whether it be in my personal or professional life and hope that this focus, energy and direction encourages others."
Jennifer T. Szakaly
Owner/Care manager, Caregiving Corner
"For people who do not know me, the most important thing I can share about myself is my passion. I am passionate about older adults and the value they still bring to the rest of us, despite frailty and the stigma of aging. I am passionate about the family caregivers who care for them and the struggles they endure learning to wade through the complicated health care system and a myriad of decisions they'll have to make. I am lucky that each day I am able to help the people whom I'm most passionate about."
Karen Tovar
Owner, The Tovar Group, LLC
"Life is about choices, and whatever decision you make, you own it. But life isn't just about you; your decisions affect others. Make sure you look at your decision from all sides, lend a helping hand to all, LISTEN, be kind, and hug often. Try to take the high road in your decisions. See "the good," or the better, in everything."
Marcia Webster
Executive director, Davidson Housing Coalition
"A passion of mine is to work with others to reduce stigma around mental illness and to express the importance of recognizing that people suffering from mental illness are not different from those who are diabetic, suffer from heart disease or other complicated medical issues. the mentally ill deserve care, respect and understanding, leading to potential mental wellness."
Deborah Young
Photographic artist, Deborah Young Studio
"One of the most important things I learned from my mentor was to ask questions and become fully engaged with my clients.  I found that many people are seeking an emotional connection – and if I can let down my own walls, let my own humanity show, they will reflect this and open up to me.  During my family sessions I want to give my clients permission to show the love, the tenderness, the feelings they have for each other."