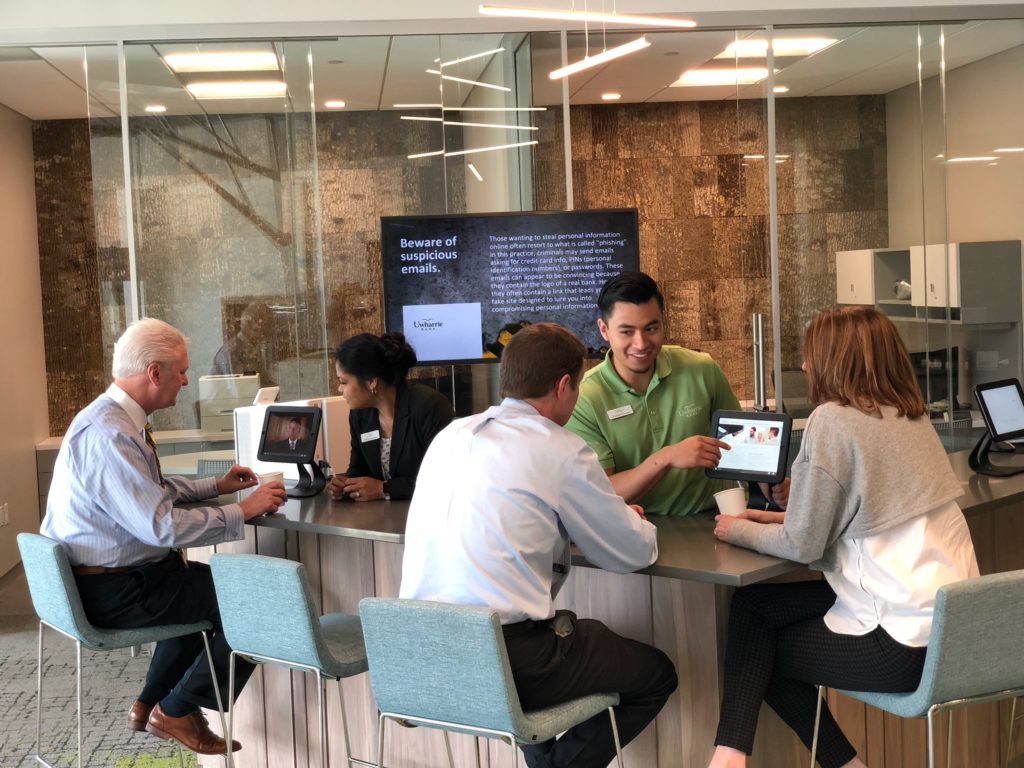 April 17. Albemarle-based Uwharrie Bank, one of the first financial institutions in the country to deploy remote deposit capture and mobile technology, has opened a "Branch of the Future" in Ballantyne.  Complete with Interactive Teller Machines and video conferencing, the branch a major conceptual step forward for the bank.
The new design includes a Tech Bar where customers can learn, ask questions, demo technology and explore product and service options., said David Beaver Uwharrie CFO. The Tech Bar has iPads for customers to self-explore the benefits of product and service options. It also has a large digital display where Universal Bankers can demonstrate and walk customers through products, benefits, technology options, and answer questions all while charging their digital devices.
It was a speedy build-out for a bank branch. Uwharrie started looking for a branch site in Ballantyne in January 2017. After nailing down a site, they designed a new concept branch from scratch in under four months. Construction began in late September 2017 and the branch opened for business in mid-March.
Bankers "can not only open accounts, approve business and consumer loans, and assist in transactions and technology; but more importantly, enable a more human and lasting connection by engaging in caring dialogue to assist customers in their financial planning, explore options and customize decisions for whatever life events are affecting them," said Pat Horton, Regional President for the bank's retail banking division.
The branch also offers free WIFI for visitors and customers in the branch and in the Community Room.
The branch also has two Interactive Teller Machines or ITMs, which are like ATMs on steroids. Customers can press the screen to talk to a banker live about their accounts or the transaction they want to accomplish just as they would at a traditional teller line.
The teller's face is live on the machine, providing video conferencing capabilities. Less than 5 percent of banks in the country have deployed ITMs.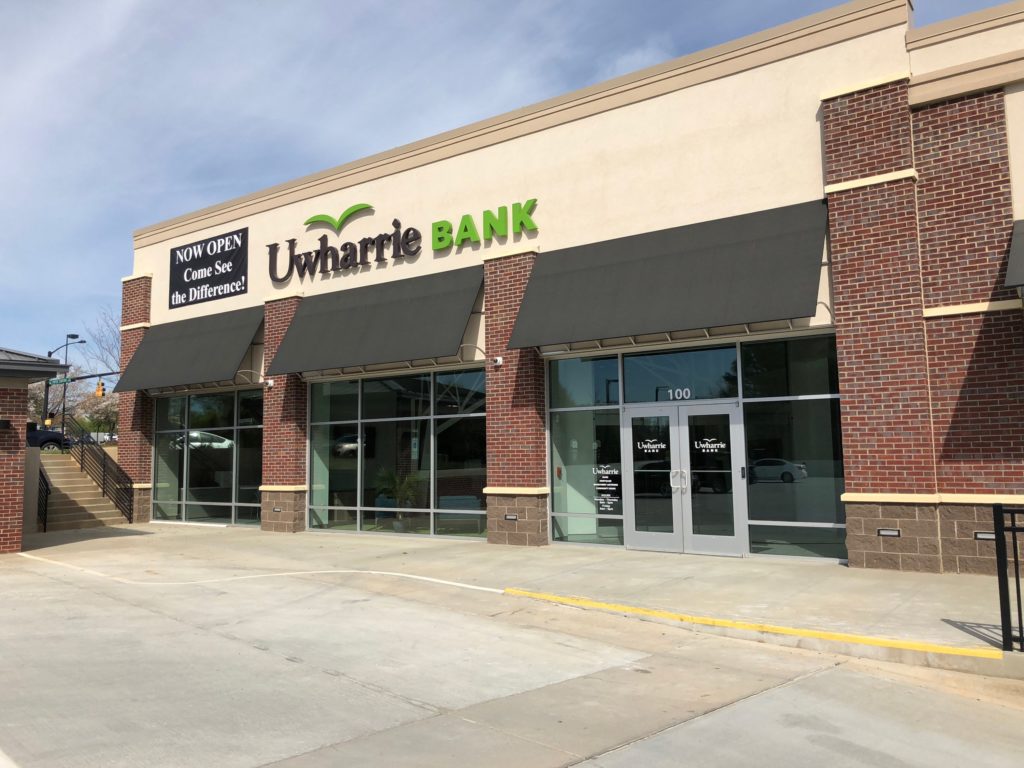 Customers can cash checks, transfer money between accounts, deposit cash, redeem savings bonds and open an account. The software that allows the machines to support complex banking transactions is much more expensive than the machines themselves, said Jason Andrew, Uwharrie's senior vice president for Enterprise Apps & eCommerce.
The branch's separate new community room is outfitted with audio/visual equipment including a 75" LED screen, Polycom and can support remote attendees through their cell phones without downloading an app.
The branch has a traditional live teller line but is equipped with cash recyclers so Universal Bankers do not have to handle cash.
"What this Branch of the Future proves to me is that a community bank can move quicker than larger financial institutions in adopting and deploying new technology and comprehensive concepts… All this in less than a year from selecting a site—that's an impressive accomplishment," said Roger Dick, President and CEO of Uwharrie Capital Corp, the parent company of Uwharrie Bank