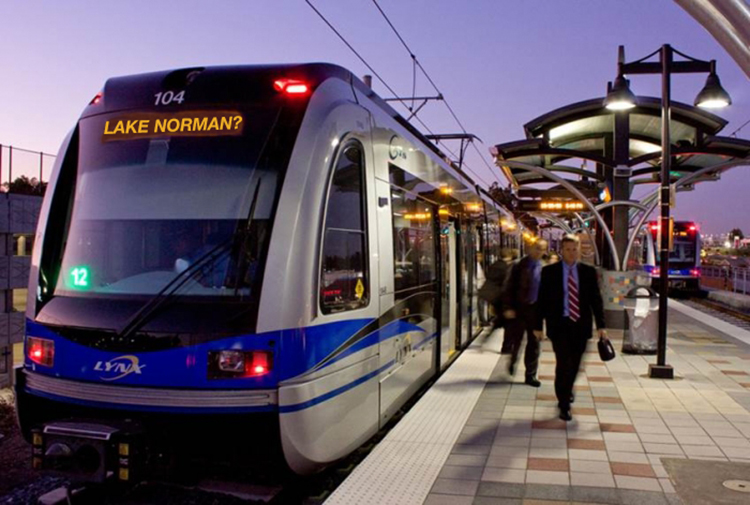 March 23. By Dave Vieser. Huntersville Mayor John Aneralla thinks he can finally put the brakes on the Charlotte Area Transportation System plans to spend more money ​to ​study a new route for the North Commuter Line.
Could a new rail line be built along I​-77? ​Up Hwy. 21?​ Or some other route? No way, says Aneralla, as well as other political leaders from North Mecklenburg.
"We're not against a rail line, but it makes no sense for CATS to spend any more money studying a new route which would take the trains away from our downtown," Anerella said. "That money would be much better spent enhancing bus services."
​
​The Huntersville mayor has been the strongest critic of the study. Voting it up or down will happen at the March 28 meeting of the Metropolitan Transit Commission.
Most observers say there​'s really ​no ​economically viable ​place to put another rail ​line ​in North Mecklenburg.​ But plans to share the Norfolk-Southern tracks fell apart when the railroad refused to cooperate. ​
Key Norfolk-Southern leases come up over the next several years, which is when commuter rail proponents will finally have leverage over the recalcitrant railroad company.
Meanwhile, the CATS study costs on the order of $2 million—money better spent on bus service, which can more easily adjust to growth where and when it occurs.
One option which was studied by CATS  was relocating the new rail line further east, away from the Highway 115/downtown corridor. That did not sit well with local leaders in the Lake Norman region.​ Indeed, an entirely new route could cost billions of dollars.​
"We're not opposed to the Red Line at the originally proposed location along the existing Norfolk Southern freight line​,​" said Cornelius Mayor Woody Washam. "However, I am opposed to any further study which would take the Red Line out of our downtown centers."
One concern shared between the Lake Norman communities is the fact that several developments, including Antiquity, were specifically built to be near the original Red Line route within the Norfolk Southern right-of-way, so a route further east would run contrary to those long-promised plans of access to a quick commuter rail ride to and from Charlotte, thereby avoiding I 77.
The Metropolitan Transit Commission (MTC) is the policy board for CATS and has responsibility for reviewing and recommending all long-range public transportation plans.
Voting members on the MTC Board include the Mayors of Charlotte, Cornelius, Davidson, Huntersville, Matthews, Mint Hill and Pineville, the Chairman of the Board of Mecklenburg County Commissioners and the regional representative from the North Carolina Board of Transportation.
The March 28 meeting will begin at 5:30 pm at the Charlotte Mecklenburg Government Center Room # 267, 600 E 4th Street Charlotte.