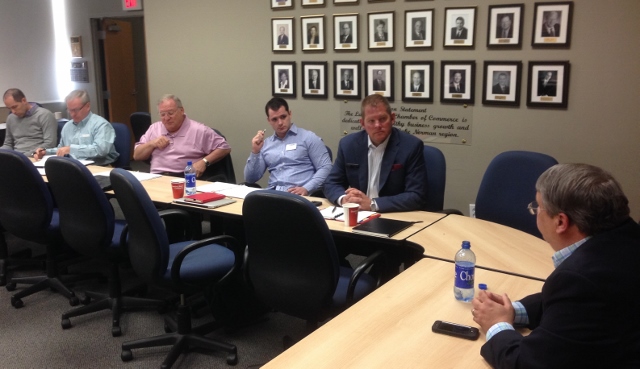 March 28. Sometimes unusual people run for public office—and win. The Lake Norman and Statesville Chambers of Commerce have found a way to improve candidates with coaching on everything from fundraising to polling. It's the Institute of Political Leadership.
"It is our hope that the IOPL program will provide a foundation for a diverse pool of candidates who would be of service to our growing region. We are fortunate to have outstanding individuals currently serving our local towns, county, and state. However, if an opening for a board seat is available, we need qualified and informed candidates vying for that position," said David Bradley, president of the Greater Statesville Chamber of Commerce.
Graduates of the 2015 program include current Cornelius Commissioner Michael Miltich and Huntersville Commissioners Dan Boone and Mark Gibbons. All three were newcomers to the political scene when they entered the IOPL program. Past participants include current Cornelius Commissioner Dave Gilroy and John Hettwer, a former chamber chairman who chairs the Committee for a Better Lake Norman.
The Institute of Political Leadership of Lake Norman and Iredell County is an introduction to campaigning for local, county, and state office. The three-day session will be held on three Saturdays in April / May (April 29, May 13 and 20). It will be held at the Chambers of Commerce and WSIC Radio in Statesville. The program is intended to assist civic-minded citizens who are considering running for political office to campaign in an ethical and effective manner.
The Greater Statesville and Lake Norman Chambers are non-partisan business associations who do not endorse or support candidates for office, said Bill Russell, CEO of the LKN Chamber. "The chambers believe strongly in the principles of good government and hope to increase the number of business-minded elected officials with the skills and political acumen to provide the servant leadership which advances our community and region," he said.
Sessions include laying the groundwork for a campaign. Susan Roberts, from the Davidson College Department of Political Science on Campaign Ethics, will also address the class. Other sessions delve into communications, including a mock radio interview at WSIC in Statesville, as well as fundraising, voter trends, financing and turnout.
The classes are limited to six applicants from Mecklenburg County and six applicants from Iredell County. The cost of the three session program is $95 per person and includes meals. Applications must be received by Friday, April 14 and those accepted to the program will be notified by Monday, April 17.
Interested candidates can apply online at lakenormanchamber.org or statesvillechamber.org. The program is presented by EnergyUnited and sponsored by Duke Energy and WSIC 100.7 Radio. For more information, contact Bill Russell at 704-892-1922 or [email protected].